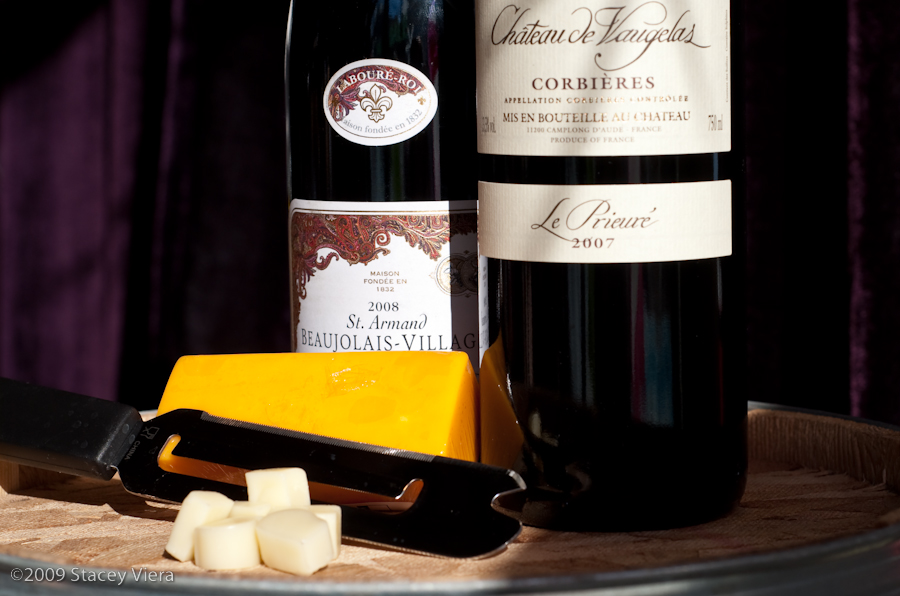 New Year's Eve is two nights away and you still don't have a party theme? Going to a party and unsure what to bring the host?  How about wine and cheese pairings? It might sound intimidating, but we've simplified the process for learning how to match wines with cheeses to complement their flavors.
We started with cheese that you probably already have in your refrigerator: sharp yellow cheddar, Muenster, mozzarella (string cheese, actually!) and a block of Parmesan. In terms of nutrition, cheese is well known as a great source of calcium, which is a mineral linked with a variety of health benefits (lowering blood pressure, strengthening bones, and aiding in weight management). One ounce of cheddar or Swiss contains over 200 mg of calcium – and adult men and women need 1,000 – 1,200 mg/day. The calcium, fat and calorie content of cheese depend on the variety. In general, hard cheeses tend to contain more calcium.
We chatted with our neighborhood wine expert, Christina Simms, General Manager of the Best Cellars in Arlington, Virginia. We shop here because Best Cellars groups their wine by flavor, making it easy to pick what you're looking for, plus the wines are typically less than $15 bottle.  Here's the insight that Christina shared with us about each of the wines to pair with our cheeses:
Cheddar – "Cheddar has a sharp nutty flavor. With a merlot or gamay, [such as Labouré-Roi Beaujolais-Villages], you have a tangy fruit that complements it well.  The soft fruit taste goes with the creaminess [of the cheddar]."
Muenster – Christina recommended a "lightly oaked" flavor to complement the Muenster. Hope Estate or another type of chardonnay has a "richness that matches with the lusciousness of the cheese."
Mozzarella – To go with mozzarella, try a "neutral white, a wine that is neutral and won't overwhelm the cheese. Farnese Trebbiano d'Abruzzo has a little citrus to it, but it's not over-the-top. It's a perfect party wine. White pizza and other foods go well with it."
Parmesan – "You're looking at wines that have more body, more flavor," Christina advised. "Look for wines, some with more tannins, that can stand up to the bold, sharp cheese." She suggested Barbera d'Asti Casata Monticello or a Grenache/syrah blend like the Chateau de Vaugelas Corbieres.
Christina's parting advice? "Think about the basic flavors and properties. If cheese is strong or full, find a wine to match that." Conversely, match a mild cheese with a softer wine.
We hope that we've simplified the pairing process for you. Have you paired other wines with these cheeses? What advice can you share with readers?
Have a safe and happy holiday! See you again in 2010!
How Stacey Got the Shot: At Best Cellars, with mid-morning light coming in through the front windows. (Should've brought diffusion material.) ISO 200, f/5.6, 50mm focal length, 1/500 second exposure.
Note: Bloggers were not compensated in any way by Best Cellars for this post.