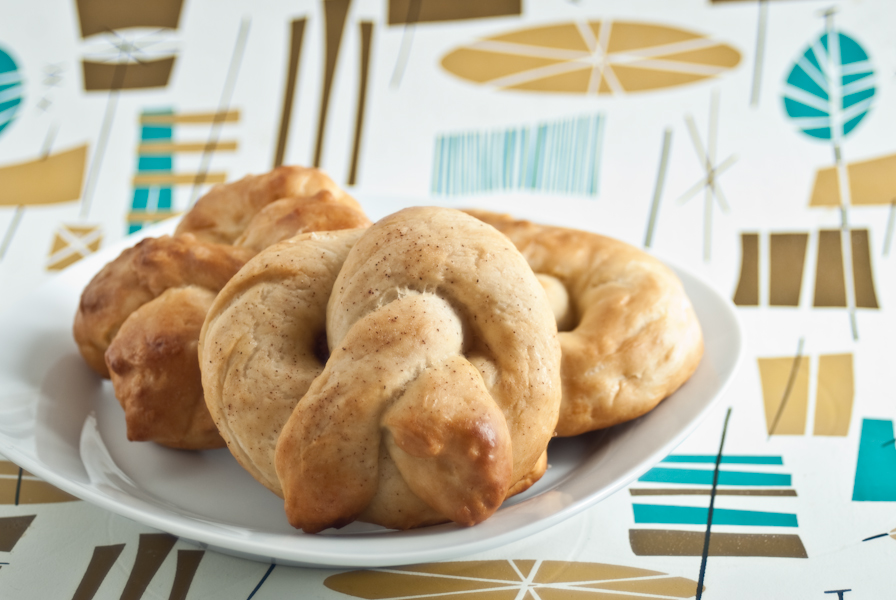 Happy New Year! Today we bring you a quick, easy, FUN recipe that calls for YEAST and other ingredients you probably already have in the cupboard.  We know, we know. Easy, fun and yeast don't usually go in the same sentence, but this recipe we found in Everyday with Rachael Ray Magazine proves otherwise.
Making Bavarian pretzels from scratch is a great activity for kids of any age. It's a lot of fun to learn how to knot the pretzels and try different toppings and dip for them. But first, here's the recipe according to the magazine, and then we'll talk about modifications later in the post.
– Preheat oven to 400°. Line baking sheets with parchment paper. In a small bowl, whisk together 1 1/2 cups lukewarm water and 1 pkg. active dry yeast (2 1/4 teaspoons); let stand for 5 minutes.
– Using a standing mixer fitted with a dough hook, combine 4 1/2 cups flour, 2 tablespoons light brown sugar and 2 teaspoons salt. Separate one egg, and mix in the egg yolk, 4 tablespoons unsalted butter (melted) and yeast mixture on low speed until the dough is smooth and elastic, 5 to 7 minutes. Let the dough rest for 5 minutes.
– In a large, shallow baking dish, combine 2 tablespoons baking soda with 2 cups warm water. On a work surface, divide the dough into 6 equal pieces. Using your hands, roll out each piece into a rope about 42 inches long; dip in the baking soda mixture for 30 seconds. Using the prepared pans as a work surface, shape each rope into a pretzel.
– In a small bowl, beat the egg white with 1 tablespoon water. Brush the pretzels with the egg white mixture. Sprinkle with the coarse salt and bake until deep golden, 12 to 15 minutes.
What's the deal with the baking soda bath, you ask? Yeah, we were curious about that, too. We asked recipe author and Everyday with Rachael Ray Magazine Test Kitchen Associate Katie Barreira to explain that step. Here's her answer: "Traditionally, pretzel dough is boiled (like bagels) before baking, which creates that crackable crust and doughy center. Without this step, the pretzels just kinda tasted like bread. I didn't want to go through the full blanching process, but I found that a quick dip in hot water was close enough to recreate that quintessential texture. The baking soda enhances browning (you may even notice the dough yellowing before baking) and really ensures that crisp outer shell." Goes to show how important it is to follow directions closely while baking!
Instead of six giant pretzels, we made a bunch of mini pretzels, at least 15 of them. How many you get depends on how you divide the dough, so don't get stuck on quantity, especially on the first batch. Consider the first batch as an experiment. Be sure to roll out the dough into thin ropes, because they puff up BIG in the oven.
As salty snacks go, pretzels have a reputation for being low calorie and "diet friendly" particularly when compared to their snack aisle companion, potato chips. But hopefully you know our philosophy and tastes; we're fans of both pretzels and chips. There's room for both. By themselves, pretzels are typically low calorie, and certainly making them at home allows for more control over the ingredients. It's more likely that any additional calories and/or fat will come from the dips or sauces you share with your pretzels. For a savory, or sweet and salty snack treat, this recipe is a great addition to a party menu, football game, or just for fun.
In addition to the traditional salted pretzel, try sprinkling them with a cinnamon-sugar combo before placing them in the oven. Another idea is to have some warm dipping sauces on hand, such as melted peanut butter or gooey chocolate. For those who like savory dips, try honey mustard, Old Bay seasoned mayonnaise and the classic Puerto Rican favorite, mayo-ketchup.
How'd you like this recipe? What toppings and dips did you use?
How Stacey Got the Shot: ISO 100, f-stop and focal length unknown, 1/3 second exposure. Used a vintage lens compatible with Nikon digital cameras. Next to the window, used reflectors to bounce light onto subject and a "gobo" or "go between" to block certain rays of light from falling onto the subject.