Did I just hear you gasp? Did the breath catch in your throat at the thought of home-curing anything, much less fish?
Before you let that breath go with a hearty "Oi Vej!" give me a couple more paragraphs to explain how deceptively simple it is to cure your own lox.

I was looking forward to hosting my family for a simple brunch, but I had just had the same group over perhaps a month or so before. Instead of making the same ol' same ol' brunch fare, I wanted to give them a treat. At the same time, our family is on a budget – time-wise and money-wise – so no going crazy with buying or making nifty pastries and quiches and whatnot. I had to get creative.
Lox! Jews love lox! I'll cure lox! My husband was dubious, especially since my mom has an issue with salt, but I bought a 2-pound fillet of Atlantic salmon at the seafood counter and set to work using this lower-salt recipe for The Minimalist's Gravlax from the New York Times.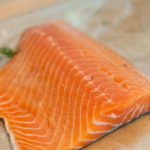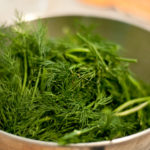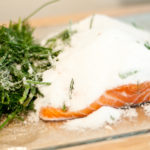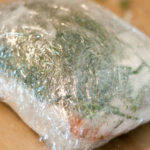 Home-Cured Lox
Serves 8-10 bubbies/the whole mishpocha
2-pound center-cut salmon fillet
1 cup salt
2 cups sugar
Chopped dill (optional)

In a bowl, mix salt and sugar. Add dill, if desired. (The dill puts the "grav" in gravlax. It's more of a Scandanavian add-in, and I prefer my lox without the dill. For the purposes of testing the recipe, I added some in anyway.)
On a large piece of plastic wrap, lay the salmon with the flesh facing up and heap the salt/sugar/dill mix atop the fish. Wrap very tightly and refrigerate for at least 36 hours.
Unwrap, rinse, slice thinly (which is easier said than done) and serve with copious amounts of bagels and a variety of schmears. Sliced tomatoes. Capers. Sliced onions. Whatever you like.
Now, wasn't that easy? I really don't know what all your hand-wringing was about.

Have you cured fish at home? Does this recipe inspire or intimidate you?