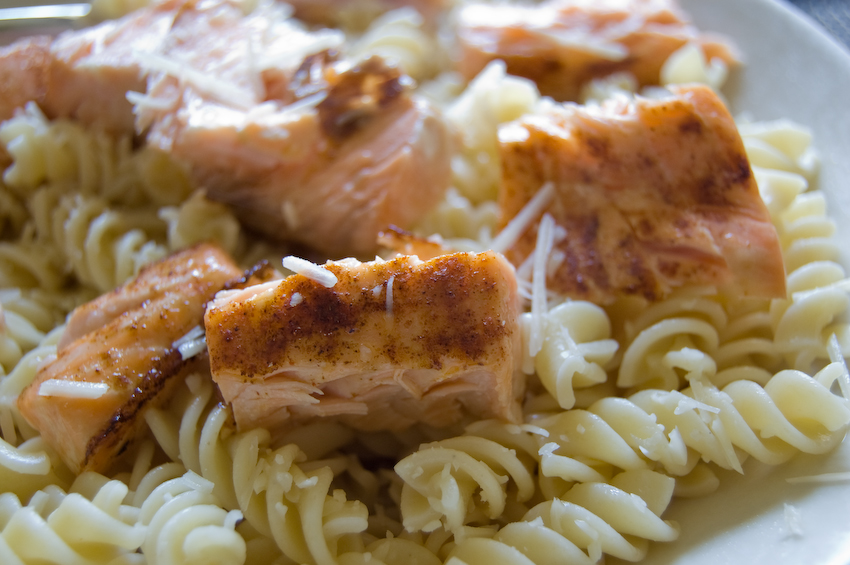 Fish. It's satisfying, delicious, comes in many varieties and is easy to cook. It's also the reason that Samantha and Stacey met. Working at the National Fisheries Institute, a trade association for seafood, we worked together on communicating about eating fish, including the science behind the health benefits and how to prepare it. There are so many varieties of seafood, that it's nearly impossible to address all fish and shellfish in one blog post, so we'll just talk about salmon today.
First, here's how to make the salmon pasta dish as pictured above.  Place uncooked salmon on lightly olive-oiled baking sheet and top with desired seasoning (a simple combo of butter, paprika and lemon juice pictured here, but Adobo is also tasty). Cook salmon for about 14 minutes at 400 degrees Fahrenheit.  A good rule of thumb is to cook finfish for about 10 minutes for every inch of thickness.
Cook pasta according to box directions (rotini pictured) while salmon is baking. Drain pasta, coat with less than a tablespoon of buttery spread (we like Brummel & Brown) and some Parmesan cheese. Break the salmon into chunks with your fork and place atop pasta.
Here's a tip: We purchase most fish fillets frozen in bags of individual 3- to 4-ounce vacuum sealed packages and defrost them in a bowl of very cold water prior to use.  That way, you always have a fresh piece of fish ready to enjoy in about ½ an hour. Since most fish is frozen out at sea or soon after harvest, buying frozen helps you preserve the freshness until you're ready to defrost. Plus, it's probably a bit less expensive, too.
Much of salmon's popularity relates to its health benefits, most notably the omega-3 fatty acids.  These heart healthy fats are found in many types of cold water fish, such as tuna, herring, and sardines. As for the farmed vs. wild debate, studies indicate the health benefits are the same regardless of the source.
How Stacey got the shot: In the dining room, natural light coming in the windows, with the digital at ISO 400, focal length 34mm, aperture f/4.5, exposed 1/30 second.