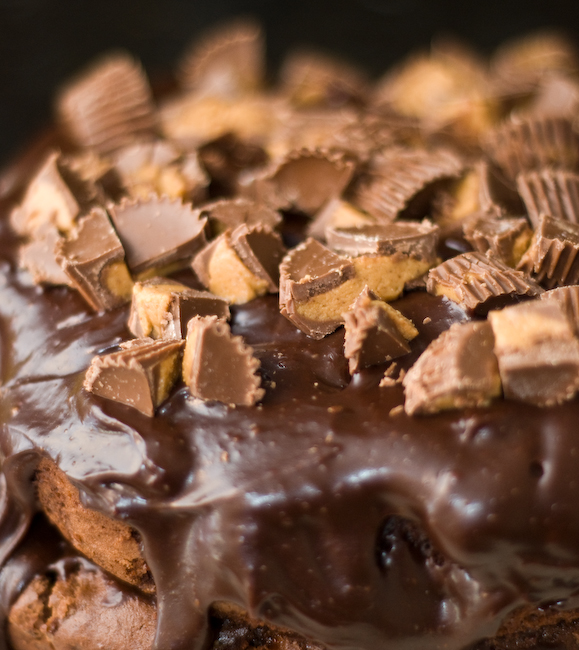 It seems like our very first post was ages and ages ago. Remember that one? It was about chocolate, one of the essential food groups. If you missed it, go back and read it for the nutrition info and suggested serving sizes. We truly believe that Every Food Fits in a balanced diet, and we hope that you feel good about enjoying all foods in moderation. Especially chocolate.
Not that there's anything moderate about this recipe. Food blogger Bakerella introduced us to the cake that we've named…drumroll please…The Evil Gut-Buster! It's so sinful that Stacey baked one for her favorite registered dietitian, Samantha, and got photographic evidence of the delicious event.
If you're feeling up to the task, check out Bakerella's post for the recipe. Don't feel like baking a cake?  Host a chocolate tasting party and use Ghirardelli's Chocolate Glossary to educate your guests about different varieties of chocolate. When it comes to health benefits, dark chocolate appears to contain more flavonoids – a type of antioxidant – than milk chocolate. Flavonoids are also found in broccoli, apples, cranberries, tea, and wine.
Even if you only bake it once, try the chocolate monstrosity cake and share a slice with 20 of your closest friends. Or freeze it in pieces and enjoy it over a period of time. If you do make it, please share your results and a photo!
How Stacey got the shot: In the kitchen with the digital at ISO 400, focal length 50 mm, aperture f/1.8, exposed 1/60 second with all of the lights out and the flash bounced off the ceiling. In case you're wondering: yes, it is REALLY hard to focus manually when all the lights are off.