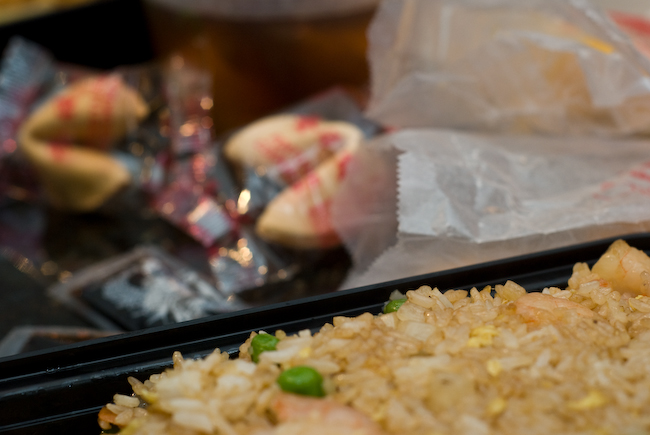 We love to eat out.  As the main chefs in our families, Samantha and Stacey often need a night away from the kitchen.  But we always run into the same predicament:  how can we eat smart and eat healthy while going to a restaurant?  Some restaurants are more challenging than others.  Enter:  Chinese food.  As part of a balanced diet, Chinese food can fit, and Sam gives us the low-down on how to manage calories, sodium, fat and even get additional nutrients while enjoying Chinese food.
Chinese food seems to have earned a reputation for being an unhealthy choice, but with careful review of menu offerings, you can choose a tasty meal that fits into a balanced diet. Finding nutritional information for the Chinese entrees at your local carryout may be a challenge, as most do not list any. Chain restaurants typically carry the information on their websites, and we've listed a few for you to review: Panda Express, Manchu Wok, Pei Wei, and P.F. Chang's.
First things first: look for dishes that include lots of veggies. This is likely to lower total calories and fat, but watch the portion and the sauces. Sauces add calories, as well as sodium. Try steamed rice instead of fried, and brown rice to up your daily whole grain quota. Lean protein abounds in Chinese offerings – shrimp, scallops, chicken and tofu – so mind the way it's prepared. Look for poached, steamed, broiled or roasted over fried, battered or breaded.
Perhaps some of the negative reputation surrounding Chinese food comes from a higher than usual sodium content when compared with other foods. If you're watching sodium, be aware that many dishes – including hot and sour soup, kung pao chicken, and chicken chow foon may have more than half of a full day's worth of sodium (consuming less than 2300mg/day is the recommendation).
Portions count during all meals, but this is especially true when eating out. Whether it's carryout, delivery, or full service, consider ordering a smaller plate, sharing an entrée, or taking home leftovers. Sip on a non-caloric beverage, preferably water, to help prevent the body from retaining fluid from extra sodium.
Here's a sample of a sensible serving for one person in one sitting:
Using the nutritional information from Panda Express, an individual consuming approximately 2000 calories/day, could use roughly one third of their total calories with appropriate portions.
– 3 oz serving of orange chicken (half) – 273 calories
– 4.5 oz serving of steamed white rice (half) – 215 calories
– 2 veggie spring rolls – 160 calories
– 1 fortune cookie – 32 calories
– water
Total – 680 calories
It's not difficult to see how easy it is to consume well above daily calorie needs while eating out – Chinese or otherwise – thanks to the portions being served. The full serving of the orange chicken and steamed rice in addition to the spring rolls and cookie would increase the total calories to over 1000 – for one meal!  Please share with us your ideas for healthier restaurant eating.  We're going to make this a regular feature, so let us know what kind of cuisines you would like to see in our "Eating Out, Eating Smart" columns.
How Stacey Got the Shot:  Stacey was so lazy one night, she didn't even make it to the restaurant and instead got delivery.  But she wasn't too lazy to pick up the camera before digging in!  Snapped this photo with the 50mm f/1.8 at f/4 in 1/60 second. Bounced the flash.