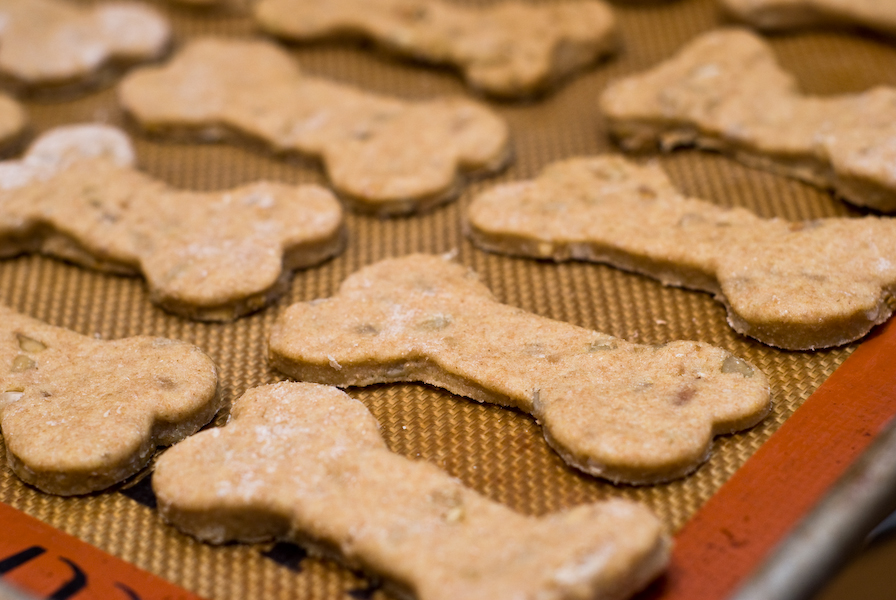 Anyone who owns a pet (or has a friend who owns a pet) knows that they are more than just pets, they're family members.  Our pups, Tchotchke Viera and Lilah Lewandowski, exemplify that concept. So what's a loving pet parent to do?  Bake cookies!  It's fun, easy, healthy for the dog and rather inexpensive when you compare it to the cost of store-bought dog treats.  Even if you don't have a dog, with a few ingredients around your house you can make these treats to bring to friends' dogs for special occasions, such as a new dog homecoming or dog birthday party.  (Wow, are we yuppies or what!?)
It wouldn't be an Every Food Fits post without nutrition info from Sam the Dietitian. Animal nutrition isn't quite the same as human nutrition, but our canine friends certainly deserve attention to their diet. First things first: to determine what is best for your dog, speak with your veterinarian about breed specifics, dog size, and any special health considerations. Best Friends Animal Society offers a helpful summary about what to feed your dog.
Like people, dogs can suffer from being overweight and obese, and this can seriously impact their quality of life. Fortunately, there is benefit for dog and owner in being more conscientious about diet and increasing exercise. So while you're thinking over what is best to feed your furry friend – and yourself for that matter – go take a walk together.
Finally, the recipe itself:
Heat oven to 350.  Mix 2 c. wheat flour, 2/3 c. yellow cornmeal, ½ c. sunflower seeds in a big bowl (on the stand mixer, if you have one).  Add 2 Tbsp. vegetable oil, ½ c. of chicken broth (we use the very low sodium kind), 2 eggs and ¼ c. low fat milk.  Dough should be mixed until firm.  Let sit 15 minutes.  On a lightly floured surface, roll out the dough to about ¼ inch thickness. Cut into shapes (of course we had to cut bone shapes!) and brush lightly with egg wash.  Bake 25-35 minutes until golden brown. Remove and cool on a rack.  Store in airtight container.
During a baking session, Stacey went so far as to try a dog cookie herself.  FYI – they're fit for human consumption, but the taste leaves a lot to be desired for the human palate, which has thousands more taste buds than your average pup.
How Stacey Got the Shot:  in the kitchen with the "Nifty Fifty" lens at f/3.5, captured in 1/40 of a second.  How many other shots did Stacey sort through and process before she picked this one?  Take a guess and post it as a comment.  Stacey will reveal the answer on Friday.