Have you ever baked a loaf of bread and, before you can even blink, it's gone? Consumed. A memory as fresh as the just-baked loaf.

We feel this way when we make our favorite challah recipe. So what's a gal to do to stretch that loaf a little farther? Challah knots!
This is even easier than braiding a whole loaf. After the first rise, just halve the dough again and again until you get 16 piles of dough. Roll each ball into a short rope and knot. Lay the challah knots on the Silpat-lined baking sheet and follow the instructions for the second rise. The knots will bake much more quickly than the loaf, so start your timer on 10 minutes and check the knots for doneness as you go.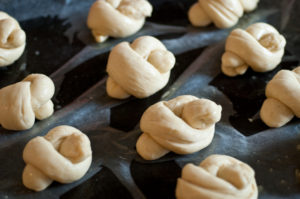 Once they're baked, immediately prepare some for the freezer. In a few days, when the first half of the batch is long gone, you'll be glad you did!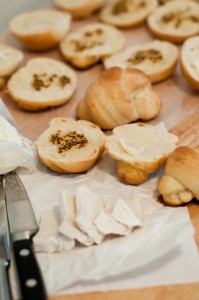 These make great sandwiches. We sliced them in half, slathered on a bit of mustard and added basil leaf and slices of Trader Joe's Goat Milk Brie.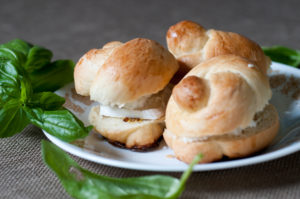 What's your favorite bread recipe? And what's your favorite sandwich?