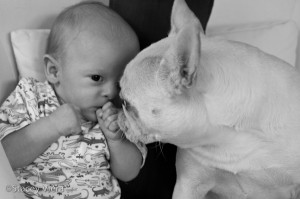 While the caption on the above photo is funny, when made to humans, these comments can be hurtful.
"Ugh, I look so fat in these jeans!" "She is too big to be wearing that." Are these the type of statements you've heard from others, or made yourself? While seemingly harmless, and very often the norm in conversation, they are examples of fat talk.
This week marks Tri Delta sorority's Fat Talk Free Week – a reminder to avoid potentially harmful and negative comments about body shape and size. Comments and judgments about our own bodies, and those of others, contribute to the already high body dissatisfaction in our nation, especially among women. Negative remarks about shape and size reinforce the message that thin is the ideal mark of beauty.
Others are listening to our words, including our children. If our daughters and sons hear us berate our bodies, they may question their own size and shape. It's time to take stock of our comments and reflect on the potential impact for our own health, and that of others. It's not a guilt message, but rather a reminder that we can turn a negative into something positive and encouraging that allows for a more diverse definition of beautiful.
So how does all this relate to Every Food Fits? Fat Talk Free Week relates to our message of balance and moderation that includes caring for ourselves and our health. We also believe in eating foods that are enjoyable, and avoiding guilt related to eating. If we're caring for our bodies, we're more likely to avoid negative comments, including fat talk.
Looking for encouragement? Try these Fat Talk Alternatives.  
Find out more about Fat Talk Free Week here and take the pledge today.