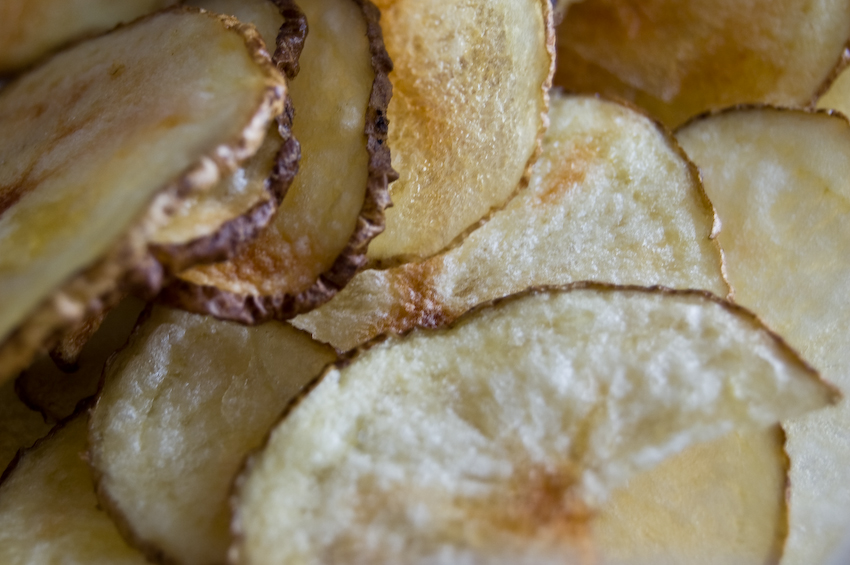 Just when you thought the term "healthier potato chips" was as improbable as "earn six figures working in your pajamas licking envelopes," Every Food Fits steps in with some good news.  Great news, actually. These chips are crispy-crunchy, delicious, easy to make and microwaveable. OK, so they're a little time consuming, but they're so worth it. Put on a comfy pair of shoes, turn on some good music and get in the kitchen with this recipe.
Slice potatoes (Idaho russets pictured, but purple and red fingerlings work great) as thin as possible. Lightly oil a glass pie plate that will fit in the microwave oven. Place sliced potatoes flat on oiled plate, brush with oil and salt to taste. Microwave on high for 5-7 minutes, depending on your oven, until browned. Remove chips with a fork (might have to pry some of them off the plate) and place on paper towel-lined plate until cooled and crispy. Store in airtight container (if the chips make it that far, ours usually don't!).
Leave the skin on, and reap the full benefit of this ever popular vegetable. Potatoes are a good source of carbohydrates, potassium, Vitamin C and fiber, and naturally very low in fat and calories. For more fun facts about the potato, "Peel Back the Truth."
We tend to make our potatoes tastier with extras such as fat and salt. Fortunately vegetable oils – peanut, olive, sunflower, canola – are good choices for unsaturated fatty acids, and can be used sparingly to reduce the total fat.
Make your chips more of a meal with toppings such as salsa, beans, seasoned meat, peppers (hot or sweet), tomatoes, and low fat cheese, sour cream or yogurt.
How Stacey Got the Shot: This is one of her first food photos, shot with the "kit lens" at 55mm with f/5.6. ISO 200 with light coming in through the kitchen window.