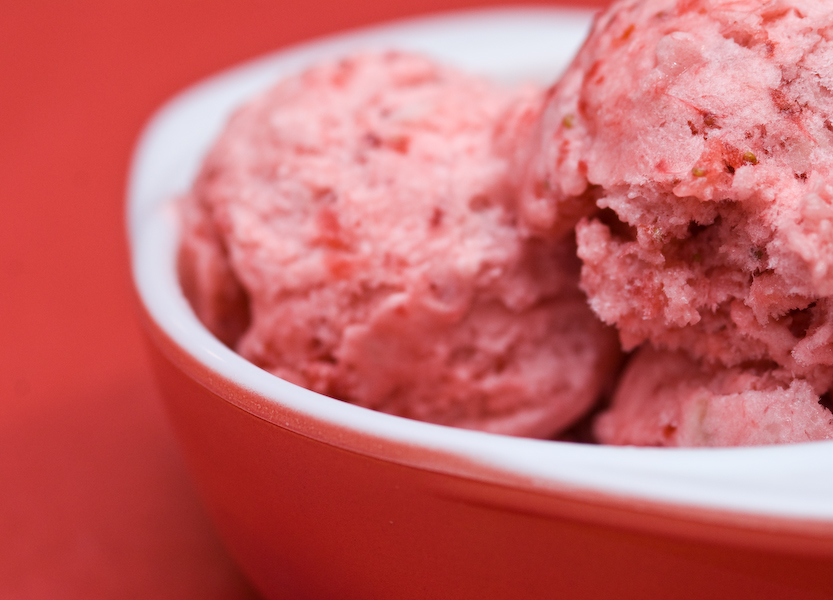 Good morning, and welcome to a special Tuesday post for Every Food Fits.  It's STILL Passover, as our Jewish friends are well aware, so we wanted to share a delicious and sweet recipe to help get your family through the next couple of days with something tasty that DOES NOT involve matzo yet is kosher for Passover!  And this recipe is so tasty that it's wonderful to enjoy even if you don't celebrate Passover.
A few added bonuses:  1) you probably have all of the ingredients in your kitchen already; 2) you can enjoy it year round; and 3) it's (reasonably) GOOD FOR YOU!
So here's the recipe:
-10 oz. frozen strawberries, slightly thawed
-One banana
-One egg white
-½ c. sugar
Place all ingredients in a large mixing bowl (or the bowl on your stand mixer).  Beat on high with electric beater until blended and at desired thickness.  Freeze in plastic container(s).
Samantha agrees that this is healthy and refreshing, especially after a meal. And frozen fruit is an easy way to satisfy the sweet tooth. The strawberries are a good source of vitamin C (an antioxidant) and folate and the banana is full of potassium and fiber. What a great combo, and a simple way to increase your fruit servings for the day. Mmmm!
We hope that you enjoyed this sweet post.  Feedback and ideas are welcomed at everyfoodfits AT gmail DOT com.  Happy Eating and Happy Spring!
How Stacey Got the Shot:  Stacey's neighbor, a fellow Nikonian, let her borrow his awesome 105mm f/2.8 lens with macro abilities that let you focus nice and tight on the most miniscule details of a shot.  This particular shot was captured at f/6.3 in 1/80 of a second.  Check out more of Stacey's macro shots on Flickr: http://www.flickr.com/photos/staceyviera/sets/72157616719581532/.