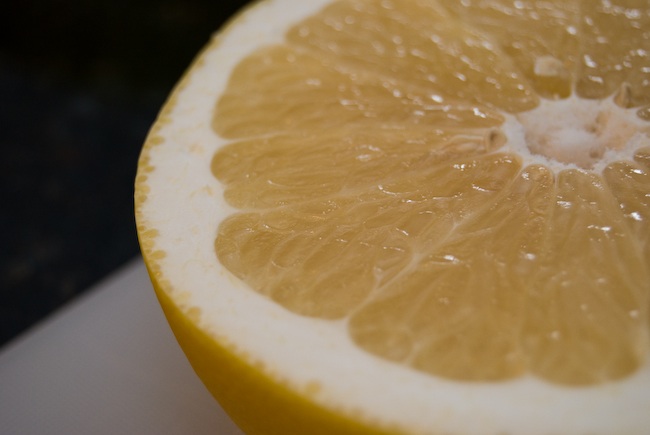 Welcome to this week's post for Every Food Fits.  Today we bring you healthy, juicy, sweet information about grapefruit and vitamin C.
While Sam admits she's not a fan of the Vitamin C-packed grapefruit, it's hard to deny its delicious, juicy appeal while looking at Stacey's photo. It's true that dietitians enjoy healthy food, but that doesn't mean we don't have our personal preferences. Opinions aside, grapefruit is a wonderful winter choice to complement your breakfast, brunch, snack or dessert.
Wondering about the nutritional value of grapefruit? Look no further than Center for Disease Control and Prevention's Fruit of the Month summary. According to the CDC, a ½ cup equals one serving of grapefruit and has about 60 calories. For a medium (4-inch diameter) grapefruit, a half-cup is about one half of the fruit.
Once you pick up a sweet, juicy grapefruit at your local grocery store for an immune boosting dose of Vitamin C, what could you do with it? Halve it and sprinkle with sugar, chill and peel it, or juice it to mix with your favorite cocktail. Grapefruit juice can also be mixed with a bit of oil and a dash of salt to use as a marinade for meat. Vitamin C is essential to a healthy diet, especially during the winter due to its antioxidant properties. Citrus fruits are also a source of potassium, folate and soluble fiber.
And if you're like Sam, instead of choosing grapefruit, other healthy options at this time of year include boxed clementines, navel oranges and even pummelos, which are slightly sweeter and larger than most grapefruits.
How Stacey Got the Shot: In the kitchen with the digital at ISO 400, focal length 55 mm, aperture f/5.6, exposed 1/25 second with the flash bounced off the ceiling.
Next week, citrus will come into play again in our blog. Gin and tonic with lime, anyone? Happy eating this week, and remember to contact us with any ideas or questions!