Happy new year! We love to use chili powder mix to season canned chickpeas and then roast them in the oven. They're a tasty and nutritious snack. But when we ran out of the store-mixed version, in Myer's words, "We resorted to survival!" Very dramatic! Never fear; we realized that we had all of the ingredients necessary to make our own. (Plus, according to the kids, "it is much better than store bought!")
And now, we share the recipe with you. Wishing you and yours a happy – and well seasoned! – 2022 full of great meals.
Homemade Chili Powder

Print recipe
Ingredients
1/4 teaspoon red chipotle powder
1/4 teaspoon monosodium glutamate
1/4 teaspoon black pepper
1/8 teaspoon ground mustard
1 1/2 tablespoon smoked paprika
1 tablespoon cumin
2 teaspoons garlic powder
1 tablespoon oregano
Directions
Step 1
Mix all ingredients together and store in airtight container in a cool, dark cupboard. Will maintain flavors for about one year.
Homemade Chili Powder Recipe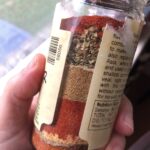 By Stacey Viera Published: January 2, 2022
Happy new year! We love to use chili powder mix to season canned chickpeas and then roast them in the oven. They're a tasty and …
Ingredients
Instructions