Homemade Mall Pretzels

Print recipe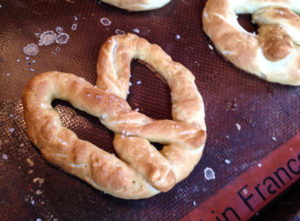 Ingredients
500ml water (warm)
10g yeast
100g brown sugar
700g all-purpose flour (preferably unbleached, unbromated)
12g salt (kosher/coarse)
50g baking soda (dissolved in hot water for pretzel bath)
Directions
Step 1
Sprinkle yeast on lukewarm water in mixing bowl of stand mixer or large bowl, if kneading by hand; stir to dissolve.
Step 2
Add remaining ingredients, attach dough hook or knead by hand. Knead dough until it forms a cohesive ball and is no longer sticking to fingers. Start with 700 grams and add more only if necessary. Cover bowl with a towel and let rise for at least an hour in a warm area/room. (If you live in an older home, place it near a warm radiator in the winter to help the dough rise more quickly.)
Step 3
Once dough has neared the end of its rise, boil water and add to a glass 9x13" baking pan with baking soda. Stir to dissolve. This creates the baking soda bath that will make your pretzels come out of the oven golden brown.
Step 4
Roll dough into very, very thin ropes. The thinner the rope, the more like a mall pretzel it will come out. Shape pretzel and gently soak in baking soda bath for a few minutes. Remove from bath and gently shake off excess water. Place on parchment- or silicone mat-lined baking sheet.
Step 5
Bake in 450 degrees F oven for about 10 minutes or until golden. Brush with melted butter, add salt and enjoy!